the 1st month of our beloved Spring season! The atmosphere smells so nice from all beautiful flowers that bloom, and all lands of Mykonos gets green! Other than that, March is also a crucial month of all gardening works, because it is our last chance for decisive interventions in plants or in our garden in general.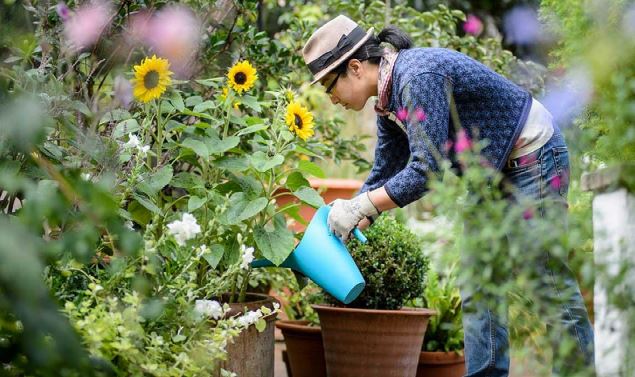 To start with, we need to check our garden for any damages that may have been caused during winter's bad weather. We clean the area from dead plants and start with the pruning. During the flowering period, it is more likely to meet all unwanted visitors that cause diseases to the plants and we need to be prepared. We continue to clean our garden by spraying our plants with the hose, removing any insect eggs that may have survived the winter and remained on them, pick up all fallen leaves or fruits in order to diminish the possibility of creating outbreaks of more insects and diseases. It is also important to dig ditches to remove water that may stagnate after rain. A check after every rain will definitely help in the proper preparation of our garden.
Before the new planting season, we dig our garden meticulously when the soil is not so wet, we add manure and we leave it to "sit" for a few days. Make sure to add a little sand to the soil where needed, so as to ensure a good drainage in the flower beds. An important part of the renewal of the garden is the aeration of the soil and the destruction of the weeds. It is better and easier to weed partially than to wait to do it when our garden is full of weeds.
Our plants need nutrients to grow their foliage and for that is why we need to add fertilizer. Fertilization is a necessary cultivation work at this time in horticultural, ornamental and aromatic plants, as well as in the vineyard and fruit trees. In the context of organic farming, we use organic fertilizer, manure, compost, which we incorporate into the soil of our garden to be better absorbed by plants. In any case we have to be careful so as not to put excessive doses of fertilizers, mainly ammonia, because they can cause problems for young plants and make them vulnerable to fungal diseases.
B) Plants Protection from diseases and insects
We spray our plants with various ecological preparations in March for protection, especially after pruning. We use water-soluble copper and water-soluble sulfur to protect ornamental plants, vegetables, fruit trees and vines from fungal diseases. In addition, we can apply ash around the plants to protect them from snails and slugs, during this period that humidity is increased.
C) Plantings and Transplants
March is considered the last suitable month for planting new trees. March is also the month of planting bushes and forest fruits such as strawberries, blackberries or roses. Plants that have already been prepared in bed or ready-made flowering plants, can be transplanted in pots or directly in the garden. This is also the time to transplant plants into larger pots.
Watering should initially be repeated twice a week. When the temperature rises we can spray them with simple hand sprayers. Irrigation can also be gradually started at this time, always depending on the needs of the weather and the peculiarities of the soil in our garden.
Regardless of the previous pruning in February, when the temperature starts to rise in March, we continue the pruning where it is necessary. All dry or broken sprouts should be removed and then branches in the center of the plant, so that air can circulate better and sunlight can reach everywhere. Plants that bloom in the spring should be pruned when they have finished flowering.
In the island of Mykonos, and in coastal areas in general, there are several plants and trees that can endure regardless the climate, plants that are resistant to salinity, such as: Metrosideros, Hibiscus, Ivy, Bougainvilleas, Prickly pear, Rosemary, Lavender, Fig tree, Locust tree, Mulberry tree, Eucalyptus etc.In our next article you can read many things about planting. When, how and why we plant any kind of plant or tree and which season. Stay tuned…